From The Principal's Desk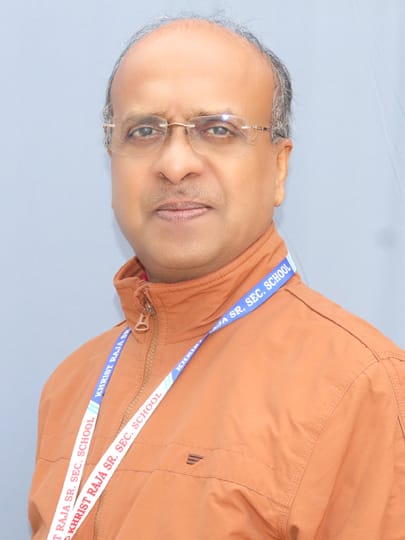 Fr. Christopher Kerketta, SJ (Principal)
Dear students, teachers, parents, old students and well-wishers,
As you may know, it is the members of a Catholic Religious Society, whom you know as Jesuit Fathers, who are at the helm of affairs of our school, KR. These Fathers are basically religious men ('sanyasis') who have given up everything and dedicated themselves totally to the service of God and men inspired by their Lord and Master (Guru) Jesus and His teachings. But they are educationalist par excellence too. As educationalist they defy comparison. Do you know that the Jesuits are in the field of education continuously without interruption for the past 450 years? Their educational institutions are spread all over the world and all of them world class,usually named St. Xavier's or Loyola. Is there any other group in the world who has a claim to legacy as old and vibrant as that, let alone education, in any field whatsoever? Such was the impact they had in Europe as educationalist that they are known as the THE SCHOOL MASTERS OF EUROPE! The modern systematic educational systemand its practice,now so familiar to all of us, were evolved by none other than these Jesuits.
Let me make use of my first address to you From The Principal's Desk to familiarize you, very briefly, with the CHARACTERESRICS OF JESUIT EDUCATION. That is to throw light on the uniqueness or hall mark of Jesuit Education System and to high light what set us apart from other educationalist.The aim of Jesuit education has never been simply the acquisition of a store of information and skills or preparation for a career, though these are important in themselves and useful to emerging leaders of tomorrow. The ultimate aim of Jesuit secondary education is, rather, that full growth of the person which leads to action –action that is suffused with the spirit and presence of Jesus Christ, the Man for Others.
The International Commission on Jesuit Education has attempted to describe the characteristics of Jesuit education keeping in mind the above purpose. Let me put them before you as briefly as possible. I know it needs elaboration and explanation. But it definitely would serve as a starting point for you to come to know us and take interest in us and what we are and what we attempt to do as educationalist.
A Jesuit school scholar will be identified as such by their
COMMITMENT: to the vision and mission to which they have dedicated themselves
CONSCIENCE: Be the change one wants to bring about and effectively touch the conscience the world he/she lives in
CREATIVITY: One who is ready to be challenged by the context and need of the time
COMPETANCE: One who is reliable and capable and up to it to take upon any challenge no matter what the context or need
CONTEMPLATION: Break free from narrow confines of status quo. Spiritual as against hollow ritualistic practice
A description of the Characteristics of Jesuit Education can never be perfect, and can never be final. But a growing understanding of the heritage of these schools, like KR can be the impetus for our students, teachers and parents to undertake the task more effectively.